Tim Dunigan (born on August 2, 1955) played the part of Templeton "Faceman" Peck in the pilot film for the NBC-TV series The A-Team before he was replaced by actor Dirk Benedict. Tim, a native of St. Louis, Missouri, is perhaps best known for his roles as "Captain Power" in the films Captain Power and the Soldiers of the Future (1987), Captain Power: The Beginning (1989) and in Mr. Smith (1983).
Trivia
[
]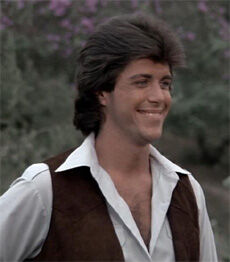 After playing Face in the 2-hour pilot film for The A-Team, he was replaced by Dirk Benedict, because the producers felt he looked too young to be a Vietnam War Vet. Series creators Frank Lupo and Stephen J. Cannell had wanted Benedict from the start, but were overridden by the network executives.[1] According to Dunigan, "I look[ed] even younger on camera than I am. So it was difficult to accept me as a veteran of the Vietnam War, which ended when I was a sophomore in high school."[2]
After a guest role on the CBS-TV series JAG, in 2002, Tim decided to give up acting and became a mortgage broker in the San Fernando Valley, CA area, where he presently resides.  After a nine year hiatus from acting, Tim did resurface in Hollywood in the 2011 film k-911.
References
[
]
↑ Sex and politics as coonskin hero returns from the Alamo, by Jenny Cullen, for the Sunday Mail (AUS), December 11, 1988, accessed 2008-08-14.]
↑ [Tim Dunigan Plays a Different 'Davy Crockett' by Jerry Buck, for the Associated Press, January 4, 1989, accessd 2008-08-14.]
External links
[
]