Synopsis
[
]
Lynch succeeds in capturing the A-Team. An official from the State Department offers to help them escape in exchange for preventing the Soviets from getting defense secrets from a captured general.
Notable Organizations
[
]
United States State Department
Enemies
[
]
Clients
[
]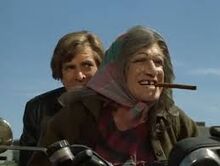 Mr. Perry, United States State Department
Aliases
[
]
Hannibal - Lynch (stage name)
Murdock - Tom the pastry delivery man
Notable Locations
[
]
Hollywood
Los Angeles
Borneo
Memorable Quotes
[
]
H.M. Murdock: No, wait a minute. You can't come.
Amy Amanda Allen: Just get in the plane. We'll talk about what I can't do later.
H.M. Murdock: But, you can't...
Amy Amanda Allen: Murdock, I said get in the plane!
H.M. Murdock: I love it when you're angry.
H.M Murdock: [starting a helicopter] B.A., will you get in?
B.A. Baracus: No, I ain't gonna fly!
General Ludlam: Is he kidding!?
Col. John Hannibal Smith: He's afraid to fly.
[Ludlam knocks out B.A.]
Col. John Hannibal Smith: Didn't know you had it in you, General!
General Ludlam: I've been waiting a long time for that.
Lynch's aide: Excuse me, we're looking for an actor named Lynch.
Col. Lynch : His real name is Hannibal Smith. he's using Lynch as an alias.
Comments
[
]
The twenty-ish hour flight from Los Angeles to Borneo is treated as almost instantaneous. No explanation is given as to how Murdock and Amy get back to L.A.
Amy had a rare heroic moment in this episode. Face was facing a firing squad, and tried unsuccessfully to ignite a pool of gasoline with a cigarette. Amy shot it with a flare gun, causing an explosion and saving Face's life.
Even though the episode was first broadcast in 1983 it took place in 1978.[1]
Notes
[
]
Guest starring
[
]
Edward Grover

as

Major Briggs

(as Ed Grover)

Alan Fudge

as

Mr. Perry

Nico Minardos

as

Rashaam

Warren J. Kemmerling

as

General Ludlam

(as Warren Kemmerling)

Amy Steel

as

Kathy Ludlam

Danny Wells

as Film Director

Amanda Horan Kennedy

as

Rhonda

(as Barbra Horan)

Dean Santoro

as Aide

Dennis Haysbert

as Psych Ward Staff