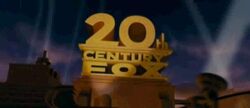 Twentieth Century Fox Film Corporation (also spelt 20th Century Fox or just simply Fox) is the major film company founded in 1935, as the result of a merger of two entities, Fox Film Corporation founded by William Fox in 1915, and Twentieth Century Pictures, begun in 1933 by Darryl F. Zanuck and company.
The studio is one of the six major American film studios. Located in the Century City area of Los Angeles, just west of Beverly Hills, the studio is a subsidiary of News Corporation, the media conglomerate owned by Rupert Murdoch.
Popular franchises under the Fox umbrella include "Star Wars", "Home Alone", "Die Hard", "Ice Age", "Revenge of the Nerds", "X-Men", "Alien", "Predator" and "X-Files".
Scrat, from Ice Age, is considered as the mascot for 20th Century Fox.
In association with strategic partner Scott Free Productions and Stephen J. Cannell Productions, Fox produced The A-Team (scheduled for release on June 11, 2010).